The U.S. Dollar is trading in stronger ranges this morning, experiencing a rally based on a commitment from Fed officials regarding the raising of interest rates. 
Overview
St. Louis Fed President James Bullard stated that the interest rate still has room to grow. In some sectors, such as Industrial Production, the economy s revealing that it is indeed cooling down as well, only giving the Fed further credit and keeping the buck quite strong based on central bank policy divergence with the rest of the globe.Earlier data releases in the form of Housing Starts and Building Permits showed a contraction for October in yet another sign the Fed can stay on its path. The Philadelphia Business Outlook was more negative than expected, and Jobless Claims came in above 225K. We shall see how the week closes and if the next 48 hours represent a reversal across the board after days of gains for all against the greenback.
Recent economic data domestically has demonstrated precisely what the Fed and Chairman Jerome Powell have professed: the economy's resilience allows for the Fed to continue its hawkish stance as inflation can only be handled with increasing borrowing costs. 
What to Watch Today…
No major economic events are scheduled for today
7 wins in the last 8 quarters!  |  #1 MXN Forecaster for Q3 2022
Bloomberg ranks Monex USA (formerly Tempus) as the top MXN Forecaster again!  Learn More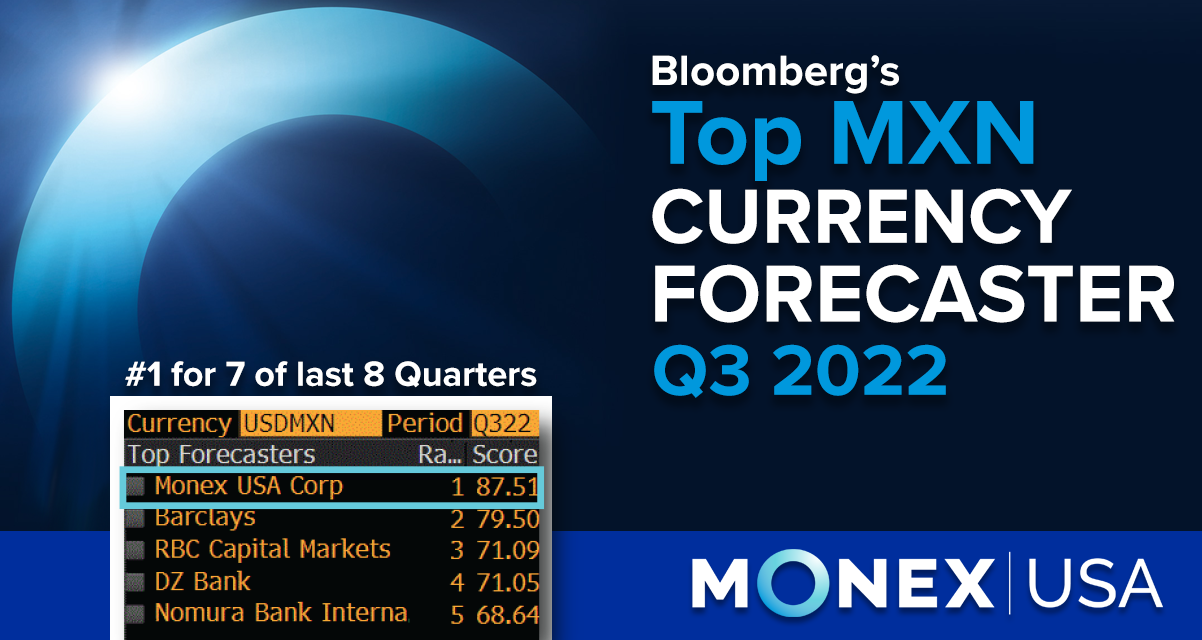 EUR ⇓
The Euro is falling based on the renewed fears across global equities that the Fed will not pivot anytime soon as economic releases keep them convinced further hikes to need to come down the line. When it comes to the price growth in Europe, data in the form of Consumer Price Index products for October came in almost as expected at a very high 10.6%.
It looks like it is enough to give the European Central Bank incentive to keep tightening its monetary policy. As we enter more challenging weather, supposedly, Euro strength will be tested as energy demand comes in. Preparation and a sense of optimism over 2023 may keep losses limited, and we feel Euro can only go up if the ECB mentality matches the Fed.
GBP ⇓
The Pound is trading in weaker ranges than it has enjoyed all week as the spending and tax package by the government was revealed. In particular, the details on raising taxes for all sectors are scaring traders and investors, who view the $65.0BN in rises and spending cuts as a potential starter of deep recessionary pressures.
Consumption is forecast to take a hit, and so is private investment, already hurt by the Brexit obstacles and pandemic post-world troubles. The U.K. has plenty to work on ahead while Sterling recovers from the Summer's downfall. The pound can survive, but we can see worries brewing about the sustainability behind fiscal measures.