WASHINGTON, DC – October 5, 2022 – Monex USA is proud to once again be named the top currency forecaster for the MXN Peso in the Bloomberg FX Forecast Accuracy Rankings for Q3 2022.
Notably, this quarter marks their third consecutive win, with a historical total of seven out of the last eight quarters achieving this top distinction above nearly 47 other global financial institutions, including some of the world's largest banks. Q3 FX forecasters were ranked on three criteria: margin of error, timing, and directional accuracy.
"We are proud to be once again named top forecaster for USD/MXN, maintaining our lead ranking for two years now," said John Doyle, VP of Trading and Dealing of Monex USA. "We are especially pleased with this quarter's ranking in the midst of the highest FX volatility since the early days of the pandemic in 2020."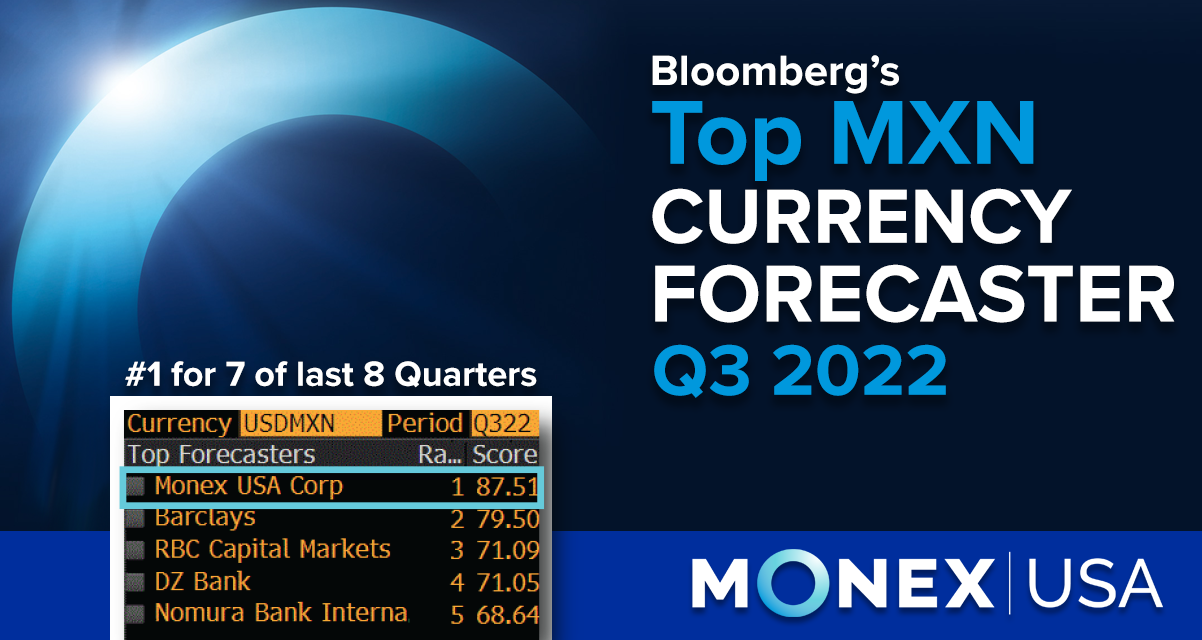 For over two decades, Monex USA has provided simplified, market-leading foreign exchange (FX) payments and risk management solutions for thousands of clients and corporate partners for more than two decades. These Bloomberg rankings acknowledge our ongoing efforts to deliver top FX expertise from our award-winning trading and account teams and leading digital tools like our online payments platform, Monex USA Online, and tailored API solutions.
Monex USA consistently earns top 10 recognition in Bloomberg's quarterly rankings for overall G10 currencies and individual currencies.
Ready to better forecast your FX for 2022 and beyond?