The U.S. Dollar is experiencing a rally against it as Producer Price Index figures this morning revealed that inflationary pressures are easing for suppliers. 
Overview
October figures came in at half the expectation at 0.2% vs. 0.4%, while the yearly average fell 6.7% from 7.2% when excluding Food & Energy costs. At the moment, markets are interpreting these developments as a sign that the Federal Reserve may pivot in 2023 and actually deviate from such a hawkish approach to monetary policy.  Across the globe, markets have also welcomed reports of China's government committing to fixing what ails the Housing Sector following years of property headaches affecting all industries and affecting domestic stocks. We will monitor how equities react throughout the day and if, indeed, these dollar-lows have room to get lower. Domestically, we will have to wait for Fed officials as they give private speeches and provide some thoughts on how today's data may influence their thinking.
What to Watch Today…
No major economic events are scheduled for today
7 wins in the last 8 quarters!  |  #1 MXN Forecaster for Q3 2022
Bloomberg ranks Monex USA (formerly Tempus) as the top MXN Forecaster again!  Learn More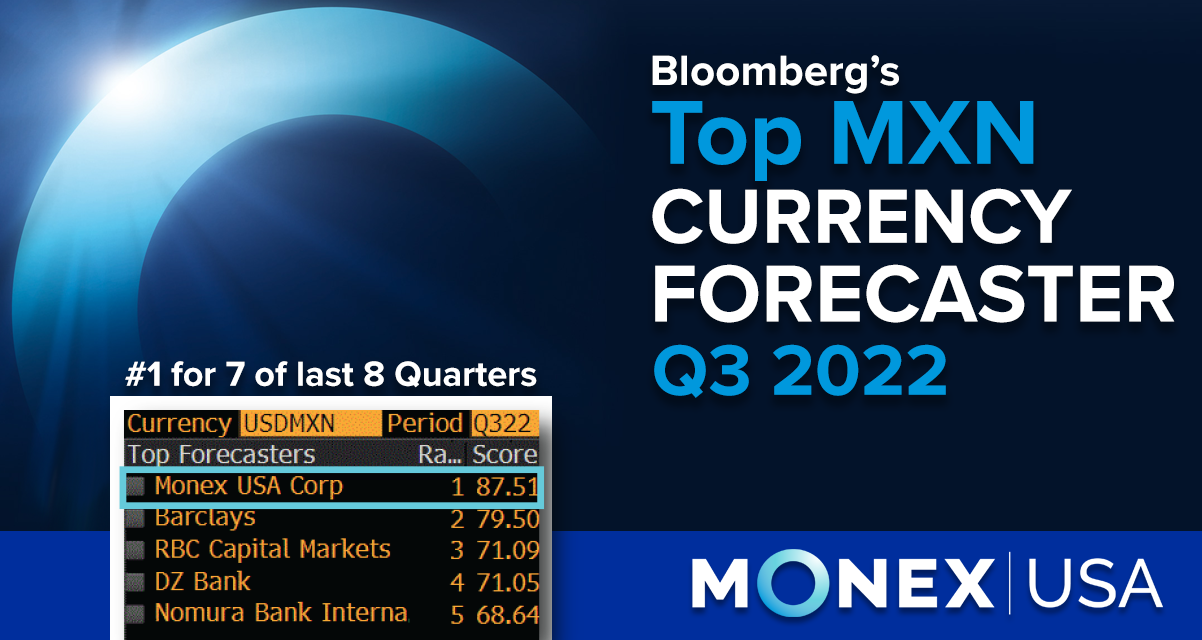 EUR ⇑
Euro gains continue as doubts over 2023 growth seem to have faded, with data making investors and traders feel like inflation may not plague the economy going forward. As both consumers and suppliers seem to be catching a break, currencies are climbing as a sign that the Dollar-dominance based on inflationary and interest-rate expectations may be done. The cycle of "Dollar-Doom-Loop" may be at the beginning of the end.This means we do indeed see buck depreciation, especially as small things such as Consumer Expectations improve in Germany and other EU countries. Per today's Gross Domestic Product, the entire Euro-zone region is still growing at a slow pace of 0.2%, but it still is not a recessionary number.  As economic fears fade away, our outlook for a stronger Euro down the line remains.
GBP ⇑
Sterling is trading at its strongest levels since mid-August, rising primarily as the news of no inflationary growth in PPI figures caused a dramatic dollar downfall. Furthermore, U.K. domestic figures were also encouraging with labor improving. Payrolled Employees increased by 74K in a month when 30K less was expected, the unemployment rate is slightly up as more people look for jobs, and the Average Weekly Earnings 3-month average rose by 6.0%.
The end of the year could be a more volatile period than even the ones we have already experienced, but we see optimism as a good sign for going into a year when recessionary fears have dominated the narrative.