After falling three straight days of modest declines, the U.S. dollar is up a touch this morning. 
Overview
The Bloomberg Dollar Spot Index is up 0.2% even as global equities ticked higher.  Futures show American shares will open higher on the shortened trading day.  US stock exchanges will close at 1 p.m. Bond markets will close at 2 p.m.  Monex USA will close at 3 p.m. EST.    There is no fundamental data or Fed speakers today.  Expect a snoozer.
What to Watch Today…
Monex USA will close at 3 p.m. EST.
7 wins in the last 8 quarters!  |  #1 MXN Forecaster for Q3 2022
Bloomberg ranks Monex USA (formerly Tempus) as the top MXN Forecaster again!  Learn More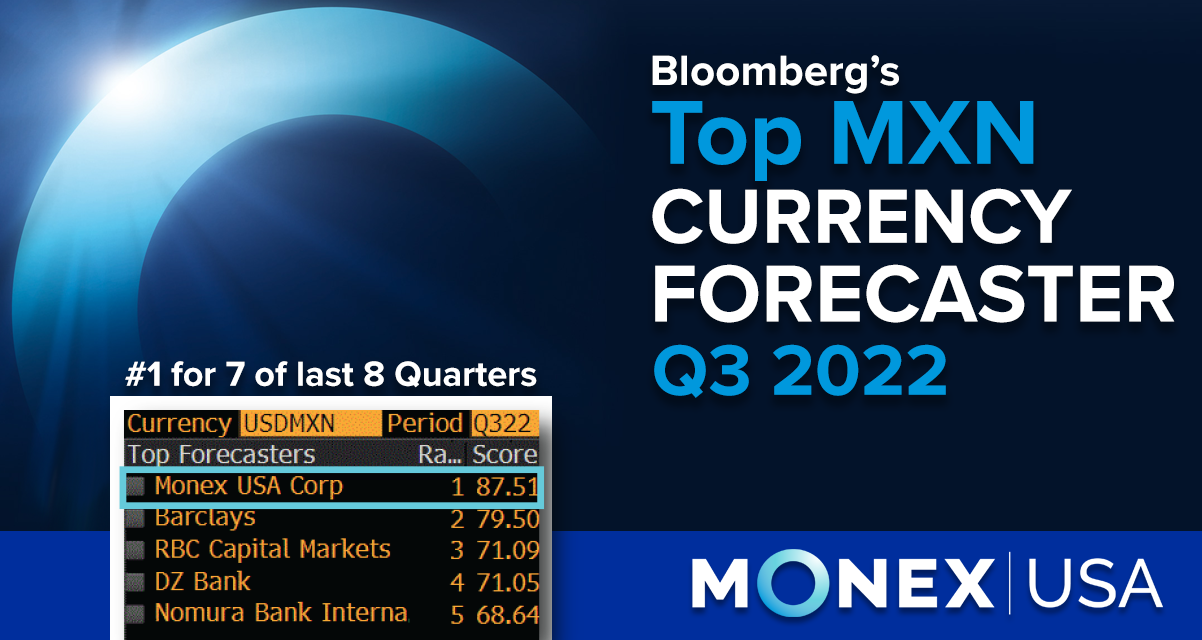 MXN ⇓
The Mexican peso is a bit weaker this morning as the third quarter Gross Domestic product print barely missed estimates.  The Mexican economy expanded 0.89%, versus an expectation of 0.9%.  The preliminary estimate was 1.0% growth.  There is no further data expected to be released by our southern neighbor today.
EUR ⇓
The Euro is slightly weaker against the U.S. dollar after gaining on Wednesday and holding on to those gains in thin markets yesterday.  Fundamental data showed some reason for optimism.   Germany's economy proved more resilient than expected.  Germany's economy grew 0.4% in the third quarter, besting the previous estimate of 0.3% growth.  A breakdown of the print showed the growth was primarily driven by an increase in household consumer spending.