WASHINGTON, DC – July 6, 2023 – Monex USA is proud to once again be named the top currency forecaster for the British Pound (GBP) in the Bloomberg FX Forecast Accuracy Rankings for Q2 2023.
Additionally, Monex USA earned a #1 forecaster ranking for EUR/GBP, #8 for EUR/USD, and secured a Top 10 spot in the overall G10 rankings.
Notably, the Monex USA team achieved this distinction amongst nearly 54 global financial institutions, including some of the world's largest banks. Q2 2023 FX forecasters were ranked on three criteria: margin of error, timing, and directional accuracy.
"We are honored to get back into the Top 10 of G10 forecasters in Bloomberg rankings, a feat we have accomplished in previous years," said Juan Perez, Director of Trading with Monex USA. "Earlier this year, we foresaw the dollar weakening and have watched this materialize. We strive for accuracy in our forecasting to best guide our clients in their global decision-making."
For over two decades, Monex USA has helped guide thousands of organizations, across nearly all industry sectors, through volatile market conditions with our award-winning teams and digital payment solutions.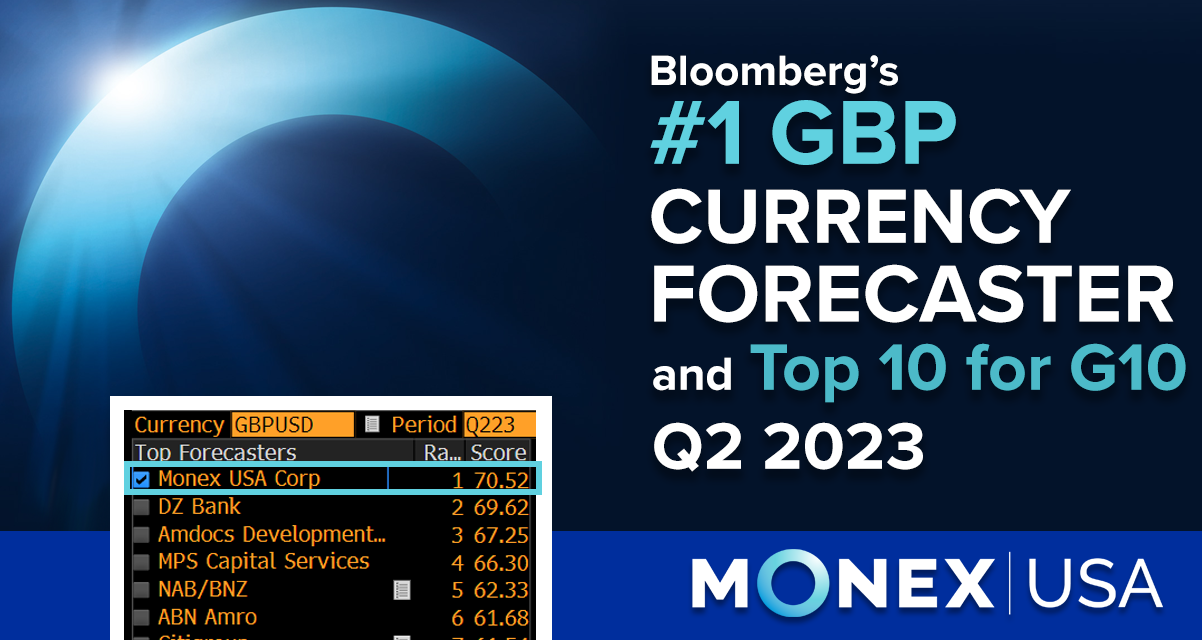 For over two decades, Monex USA has provided simplified, market-leading foreign exchange (FX) payments and risk management solutions for thousands of clients and corporate partners for more than two decades. These Bloomberg rankings acknowledge our ongoing efforts to deliver top FX expertise from our award-winning trading and account teams and leading digital tools like our online payments platform, Monex USA Online, and tailored API solutions.

Monex USA consistently earns top 10 recognition in Bloomberg's quarterly rankings for overall G10 and individual currencies.
Ready to better forecast your FX for 2023 and beyond?