As we approach the end of 2023, one thing we can say about the year was that economic uncertainty was present in every quarter.
This year was marked by several economic challenges, including slowing global growth, a choppy stock market, rising labor costs, inflation, war, and the threat of a recession, to name a few.
Now we're wrapping up the fourth quarter of the year. CFOs are looking back at the year's performance while also looking ahead to the coming year. We're likely to see many of the same economic challenges in the year ahead, while we also anticipate many new opportunities.
As a CFO planning for 2024, you want to recession-proof your budget and plan for a successful year. That includes analyzing your 2023 performance and applying lessons learned to your 2024 budget and currency risk tolerance. To assist you, we've put together a CFO checklist to guide you and help prepare your business for anything that comes.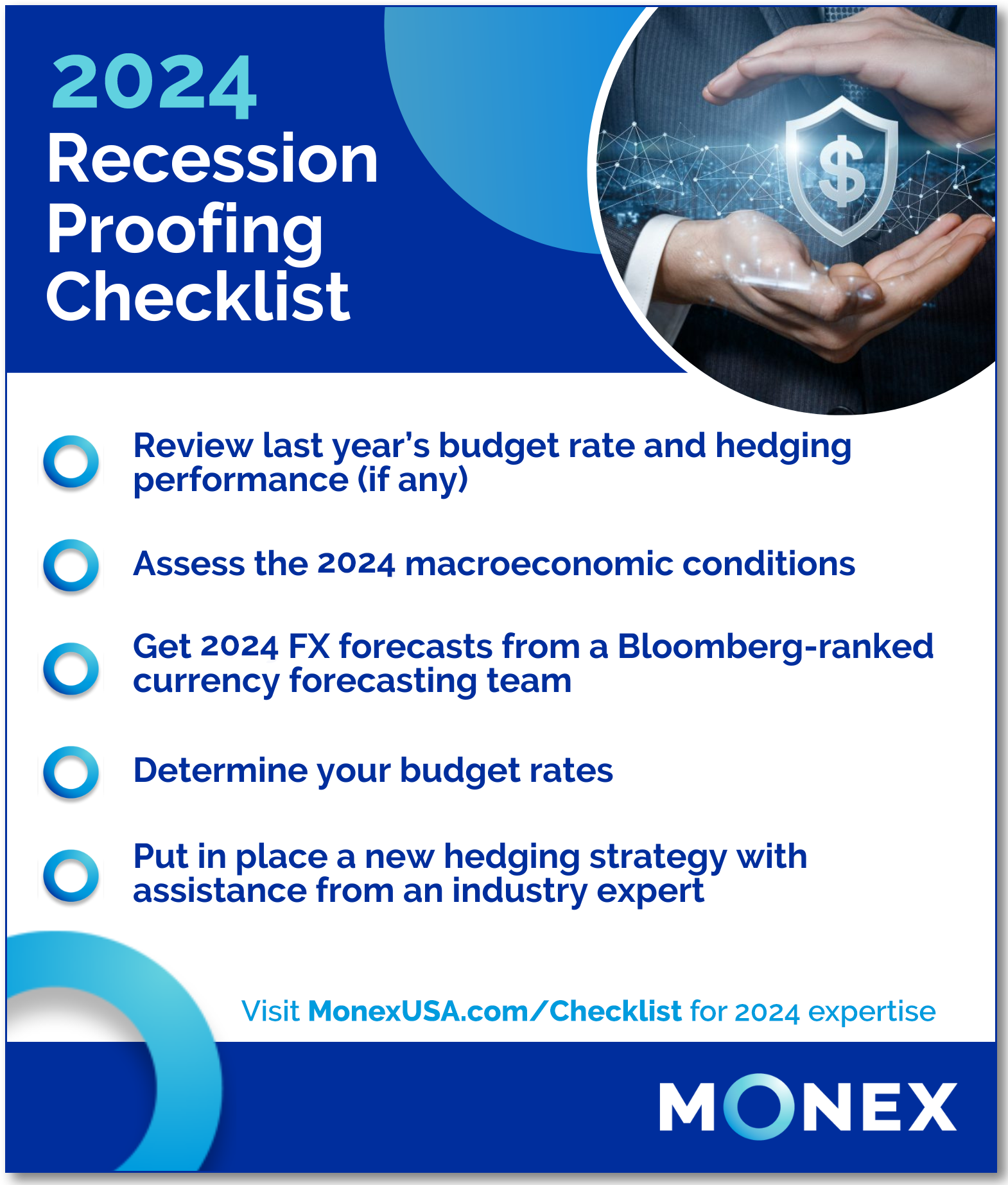 1 – Review last year's budget rate and hedging performance (if any)
What was your forecast for 2022, what did you plan, and what actually occurred? Take a look at your past performance and determine where things went right – and where you could improve.
2 – Assess the 2024 macroeconomic conditions.
Economic uncertainty will be back in 2024. The pressures we experienced this year are likely to continue to influence the economy in the coming year, along with other factors.  
3 – Get 2024 FX forecasts from Bloomberg's #1-ranked currency forecasting team
The more uncertainty we see in the economy, the higher the complexity of your forecasting. You can improve your forecasts by working with a team of experts to get the best forecasts in the business. 
4 – Determine your budget rates
With a combination of forecasting techniques, along with your business goals and advice from industry experts, you can determine your FX budget rates that will meet your 2023 business goals.
5 – Put in place a new hedging strategy with assistance from an industry expert.
A variety of hedging strategies are available. Use a combination designed for the needs of your business in this volatile FX market.
With the help of this checklist, you can make sure you've bulletproofed your budget incentives. The experts at Monex will help you research and forecast the FX market to determine the best hedging strategy for your 2023 goals.
There's no need to stress out over the end of the year. No matter what the economy brings in the coming year, we've got you covered with your 2024 budget and risk planning. Talk to an expert at Monex today to transition into the new year with the best possible forecasting and a plan to create opportunities for budget incentives.