Developing-nation assets head for best week since July
'Higher-for-longer' mantra supplanted by Fed's dovish pivot
The election of Mike Johnson — a prominent supporter of Donald Trump — ends weeks of acrimony over who should lead the US House following Kevin McCarthy ouster earlier this month after McCarthy brokered a deal to keep the government open. That deal
A key gauge of emerging-market equities rose 1.8%, while a counterpart benchmark for developing currencies jumped 0.7%. Both are on track for the best week since July.
Currencies from South Korea, Hungary and Thailand paced gains, climbing at least 1.2% each. In Latin America, Colombia's peso was the best performer, followed by the Brazilian real.
The rally came on the back of broader gains in global assets after US job growth moderated by more than expected in October, while the unemployment rate rose to an almost two-year high. The data fueled speculation the Fed may be done with its aggressive tightening campaign. The dollar declined for a third day, and US 10-year yields mostly held a drop from Thursday.
"It looks like the hot labor sector can indeed be cooling down after being the beacon of resilience that kept the Fed looking to hike to dent economic demand," said Juan Perez, director of trading at Monex USA. "If employment starts dwindling, that is when you may notice inflationary deceleration moving into deflationary pressures."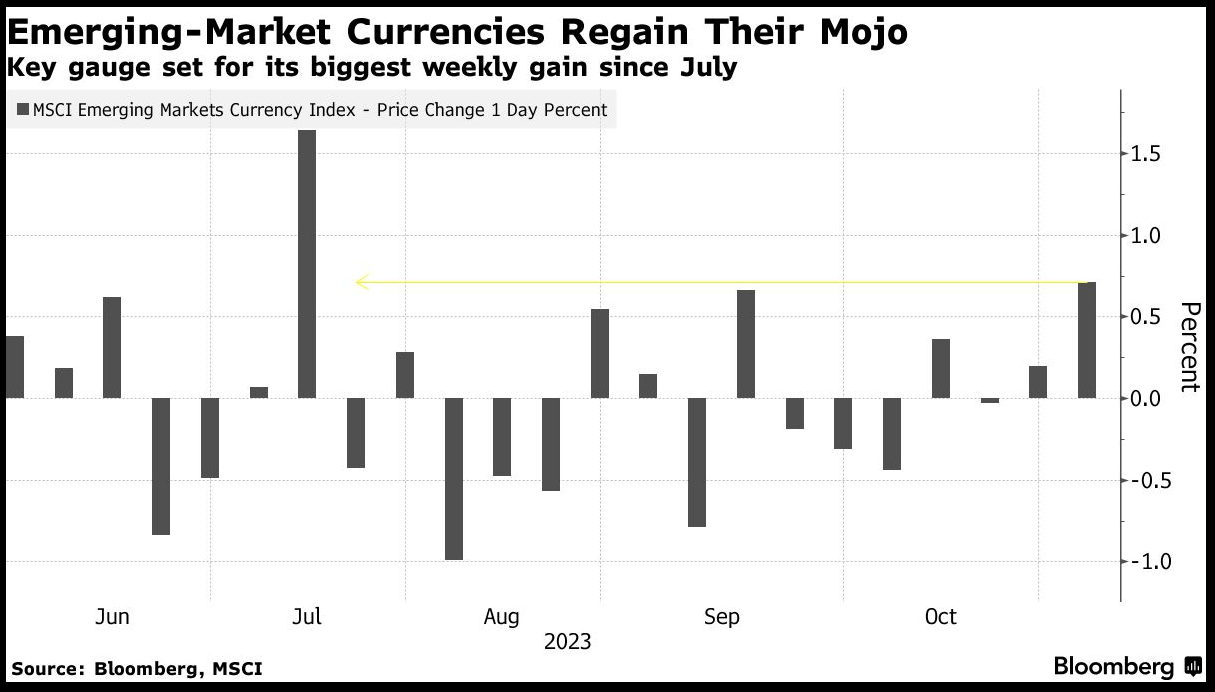 Emerging market stocks are up 3% so far this week after two straight declines as investors reprice odds of Fed hikes and assess fallout from the conflict in the Middle East. Currencies are on track for a 1% weekly gain, the most sincce July.
The Israeli shekel has gained 2.5% this week after strengthening beyond 4 against the dollar, on course for its biggest advance since July, with the central bank on guard to rein in excessive moves. US Secretary of State Antony Blinken arrived in Tel Aviv for talks, saying ahead of his trip that Washington is "determined to deter any escalation" in the nation's war with Hamas.
In Asia, India's auction of the debut 50-year bond met with firm demand, underscoring growing interest from insurance and pension funds for ultra-long paper. The government sold 100 billion rupees ($1.2 billion) of the 2073 bond at a cutoff yield of 7.46%, lower than the 7.48% forecast in a Bloomberg survey.
Concerns that Fed interest rate hikes could continue into 2024 as part of a "higher-for-longer" pattern in monetary policy have weighed on sentiment in recent months. While those worries may have eased somewhat, investors are seeking more evidence of "a firm peak in US rates" before turning bullish on emerging markets, said Henrik Gullberg, macro economist at Coex Partners Ltd.
"Is the worst behind us?" Gullberg said. "If so, then the market can start price in a global recovery and EM will do well."