The U.S. dollar continued its positive momentum and ticked modestly higher overnight. 
Overview
The Bloomberg Dollar Spot Index is up 0.1% and it is closing in on its high of 2021.  The dollar is holding its strength even as risk sentiment recovered yesterday following a steep decline on Monday.
Corporate earnings are grabbing the headlines this morning, shifting focus away from the risk of the delta variant.
There are no major U.S. economic data slated for release today, so the dollar is likely to stay in fairly tight ranges.  However, we do not discount the risk that the dollar could sell-off from recent highs on potential profit-taking, especially before the European Central Bank meeting tomorrow morning.
What to Watch Today…
No major economic events are scheduled for today
IT'S A 'THREE-PEAT' | Top MXN Forecaster for Last 3 Quarters
Bloomberg ranks Monex for MXN, G10 Currencies, EUR, and NZD!  Learn More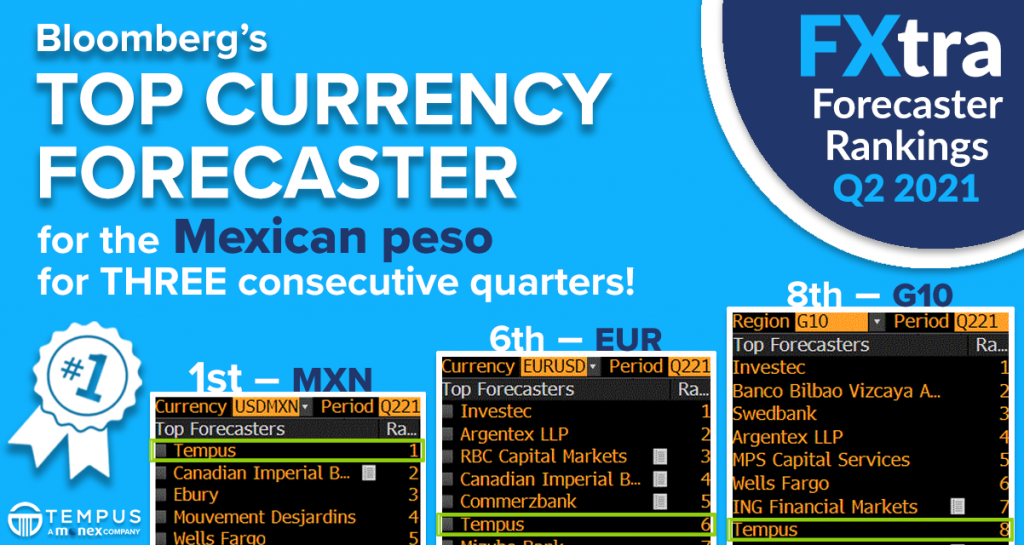 EUR  ⇓
The Euro was quiet overnight, but the common currency remains at the lowest end of recent ranges.  EUR/USD touched a three-month low overnight before recovering a touch.  The pair has seen heightened volatility but may find a quiet range today as traders await the results of the European Central Bank decision tomorrow.
The Street's consensus is that the ECB could have a dovish slant which could be somewhat priced into the Euro's weakness.   If the ECB doesn't appease the Euro bears, the common currency could see a quick pop higher tomorrow morning.
AUD  ⇓
The Australian dollar slumped for a fifth straight day, its longest run of losses since September.  The Delta variant of the coronavirus is running rampant in Australia, causing leaders in three states to reinstate lockdown measures. The result is that nearly half of the population is under some kind of stay-at-home order.
Weaker-than-expected retail sales added insult to injury to the beleaguered Aussie.
AUD/USD is 3.5% lower over the past two weeks.
Ready to spin the currency market moves in your favor?
Discover HOW WE Can HELP You                SEND or RECEIVE PAYMENTS