The U.S. Dollar reawakened this week following the end of the debt-ceiling drama that has been keeping our lives hostage for over a month.
Overview
As times seem to finally hit the summer vibes, a plethora of central bank action this week prior to the much-awaited June 14th meeting for the Fed the next will help in determining just how much longer the buck will stay afloat. The chances of an interest-rate-hike "skip" for June are increasing with the likelihood for a 25-basis-points increment for July at over 50.0%. The U.S. economy seems strong enough not to face any need to see interest rate cuts this year, so we shall listen to other central banks as they assess where they see their idiosyncrasies separate them or unite them in the policy.
Today's releases of Purchasing Managers Index, Factory Orders, and Durable Goods Orders will give a window into just how well sectors are performing and if the momentum is in any way fading. While things have not been stellar, steadily, most indicators have read towards expansion recently and paint a picture of overall health. If data for the U.S. starts suggesting a slowdown, any increase in bets or cuts by the end of the year will hurt the dollar along with progress in other areas of the globe. Oil cuts by Saudi Arabia may rattle some cages, but by now, the world is adjusting to relying less on OPEC+ for shock.  Expect some volatility tackled with statements from officials as they try forecasting the second half of the year.
What to Watch Today…
No major economic events are scheduled for today
Monex USA Online is always open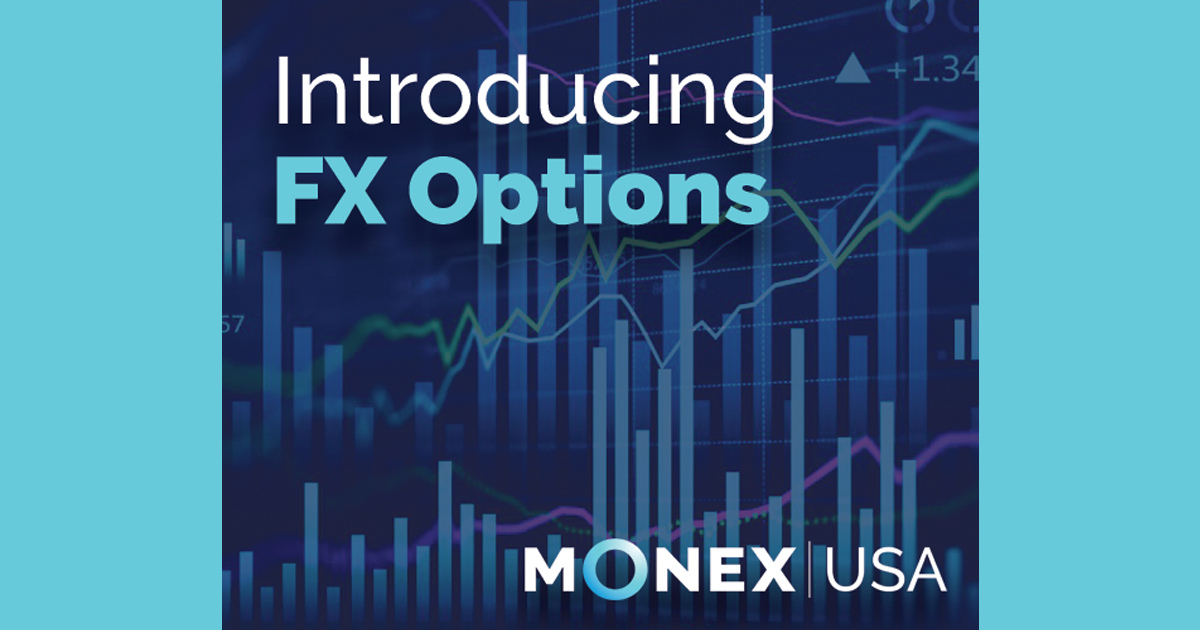 Monex USA introduces OPTIONS
With currency exchange rates in a constant state of flux, companies transacting cross-border face the risk of losing substantial sums of money if they fail to hedge their exposure to these shifts. Monex USA now offers a wide range of FX options that could help your business better manage risk. Learn More
EUR ⇓
The Euro has lost some of its gains from last week as this week begins with concern over energy supplies if Saudi Arabia is to cut supplies further. Much of the European economy's woes have been tied to resolving the lack of energy imports from Russia as well as being at the mercy of OPEC+'s decisions which are not based on the comprehensive American/Western approach to make oil production less profitable for the Russians.
While not everything has been doom and gloom, and the European Central Bank has managed to increase interest rates, the overall economic performance in the Euro-zone is leading to fears of a recessionary period for all. Germany has already revealed evidence of not being able to fully avoid a recession in the winter. Thus, Thursday's Gross Domestic Product figures will be crucial. With expectations of 0.0% progress for the final Q1 GDP revision, any number, positive or negative, will determine feast or famine for EURO prospects.
JPY  ⇓
The Japanese Yen is falling again in value and is not horribly far from its weakest point reached back in November. Plagued by uncertainty over the Bank of Japan's monetary policy pivot, the Yen has not had much to propel it in recent times as the divergence between central bank methods remains. A new chairman has not meant a turn towards tightening after Japan's deep commitment to maintaining an accommodative financial environment, while others chose to fight inflation and cut off loosening as well as a stimulus. Nevertheless, this is translating into an excellent time for NIKKEI exchange stocks, which rose 2.2%, the most since July of 1990, as a weak Yen helps boost corporate profits. We shall see what it will take for Yen to start gaining, but the turn to the second half of the year could spark change.