The U.S. Dollar is losing ground all across the board following a shocking release of inflation in the form of Consumer Price Index figures for October. 
Overview
CPI for the month only advanced by 0.4% vs. 0.6% expected, while the yearly average fell from 7.9% to 7.7%. The Yearly Avg. CPI has consecutively fallen since hitting its peak in June of 9.1%. It is the lowest annual rate since January. Essentially, this is what the Fed hoped their tightening and interest rate hikes would produce, and it is clear by looking at Jobless Claims that the economy and prices are cooling.At the moment, the Fed's odds of hiking by 75 basis points at their next meeting have gone down dramatically while Traders weigh the chances they will go ahead and hike by 50bps. Fed Chairman Jerome Powell had warned that the pace of hiking would slow down while the terminal rate may end up higher than they previously forecast. With this data, expect it to be used as evidence that the Fed's line of thinking is merited and that perhaps this is the start of a major cooldown to come into 2023.
Jobless Claims came in at 225K, while Continuing Claims also rose slightly more than estimated.
What to Watch Today…
No major economic events are scheduled for today
7 wins in the last 8 quarters!  |  #1 MXN Forecaster for Q3 2022
Bloomberg ranks Monex USA (formerly Tempus) as the top MXN Forecaster again!  Learn More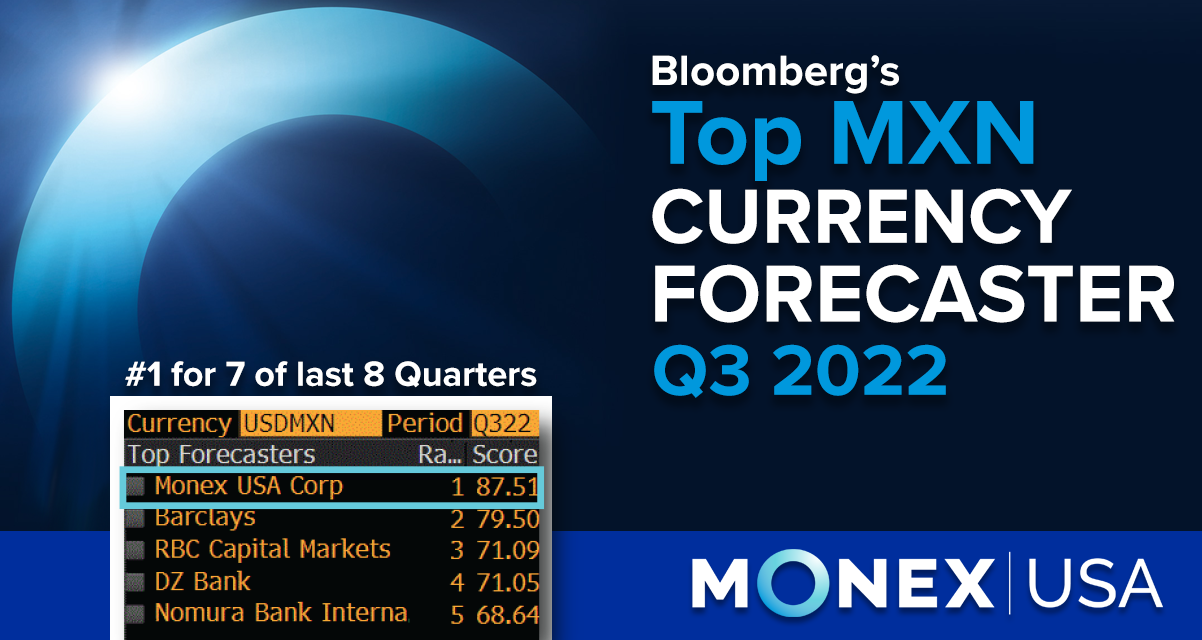 EUR ⇑
The Euro has jumped by over 1.0% as an immediate reaction to the potential for deflationary pressures in the U.S. Next week, the Euro-zone resilience will be tested as we get everything from Industrial Production, Gross Domestic Product, and CPI. While the energy crisis remains a concern as we head into rougher colder weather, the European Central Bank is determined to use contractionary to normalize the economy.
We will see if the lower demand and fall of prices here translates into an easier time for the Euro-zone. For now, all eyes will be on how accommodative central banks may become if they start witnessing too rough a time in the world economy.
GBP ⇑
Sterling has reached its best level in three weeks following the markets' thoughts on the lower CPI registered on the other side of the pond. We think next week post-holiday will be more volatile as other central banks adjust to the fact that higher rates have worked for the U.S. to cool down where needed.
It may be too early to applaud the Fed, but their line of thinking is working. However, we can only wait to see how fast a 2.0-3.0% inflation target can be reached. U.K-wise, expect more talks about how to avoid a deep recession, which will bode well for Pound value.